The Strickler Express is Strickler Insurance's Newsletter for friends and clients of Strickler Insurance. We have been sending out the Strickler Express since 1982. Contact us to learn more about insurance and request a free quote.

Clearing Up The Confusion About Auto Insurance Rates
Auto insurance can be confusing. If you've actually read your insurance policy, you know what I'm talking about. While your policy explains what the insurance company will – and, more importantly, will not – pay for, it does not explain how prices are determined. Insurance rating is quite complex, but the foundation of this whole pricing process is really quite simple … Insurance companies are concerned about risk – the risk that an event they'll have to pay for is likely to occur. High risk equals high price. Low risk equals low price. Simple. Here are some of those risk factors that affect you and your auto insurance:
Previous Accidents and Claims –The statistical truth is drivers with previous accidents and claims are more likely to have additional accidents. The driver with no claims is likely to continue that way.
Age – When it comes to driving there are high-risk and low-risk age groups. For example, drivers age 16 to 24 are among the highest risk drivers on the road. It's statistically proven. That's why their rates are higher.
Where You Live – Insurance rating is all about statistics. In some places accident rates are much higher than in others. Accident severity also varies from location to location.
Population density, traffic congestion, speed limits, dangerous traffic patterns – If you live in a statistically high accident area, your auto insurance rates will reflect.
Vehicle Usage – How you use your car is a big factor, too. For example, the driver who commutes 1 mile to work is much less likely to be involved in accidents than the driver who commutes 30 miles.
Type of Car – Cars that are more expensive to fix or replace represent higher risk to the insurance company.
Your Driving Record – People who drive unsafely represent a greater risk of accidents. Speeding tickets and other violations tell the company a driver indulges in unsafe driving habits.
Taking these – and other factors – into consideration, an insurance company essentially categorizes drivers by risk level and charges them according to the level of risk they represent. This is not done individually. Rather, the insurance company has filed its rates with the state Insurance Department. Whichever filed rate level the individual falls into, those are the rates he or she gets. Hopefully, that helps clear-up some of the confusion about why auto insurance rates vary so much from person to person and from place to place.
Flood Insurance Coverage
Your homeowners' policy doesn't cover damage from flooding, and you can't simply purchase flood insurance as an endorsement to your policy like you might expect. Instead, you must purchase a separate flood insurance policy through an insurance company that participates in the National Flood Insurance Program (NFIP), a partnership between the Federal Emergency Management Agency (FEMA) and the private insurance industry. A flood insurance policy can offer you protection for both the building and its contents.
How do you purchase flood insurance?
If you decide you want or need flood insurance, the perfect place to start is by asking your homeowners' insurance agent for assistance. They may be able to write a flood insurance policy for you.
How much does flood insurance cost?
Flood insurance costs vary widely, depending upon your location. However, if you live in a lower-risk area, you can typically reduce the premium by purchasing a lesser amount of coverage.
What else should you know about flood insurance?
You should be familiar with several miscellaneous facts about flood insurance. First, you can purchase flood insurance most any time if you live in a participating community (except when a flood is imminent–i.e., an impending hurricane). You generally have a 30-day waiting period before the policy becomes effective. Flood insurance policies don't cover flooding from wind-driven rain or damage from hail. Your homeowner's policy will likely cover these situations.
February Client of the Month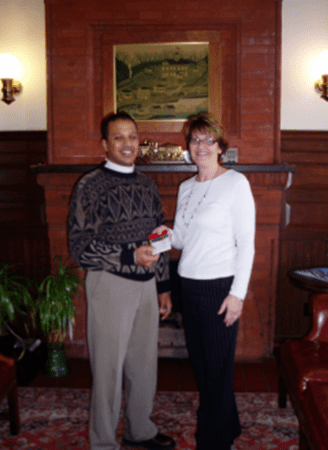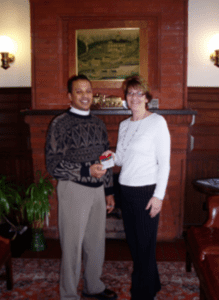 Our agency is nothing without your loyalty and faith in us. Even if your name doesn't appear below this month, please accept my heartfelt "thanks" for your support. I truly appreciate it. For outstanding work telling others about our agency, this month we honor Magdy Hassan as our Referral Client of the Month! Magdy received a $50 Dinner Gift Certificate. Thanks for your continued business! (Who's next? Hint… it could be you!) Image: Denise Eiceman, agent, awarding Magdy Hassan his $50 Gift.
Business Tip Of The Month
Did you know that having a monthly safety meeting can save you 5% every year on your work comp insurance? All of our insurance companies provide, free of charge, the training and tools necessary to receive your 5% discount from the PA Work Comp Bureau. Contact your agent to discuss how this could work for you.
Property Off-Premises
Did you know that when you take your business property off your premises, you have limited or no coverage? Most business policies cover property from 100—1,000 feet from your buildings, so it is important to make sure you are covered. Property Off-Premises extends coverage beyond the 100–1,000 feet while it is temporarily away from your premises. However, if the items are being transported by vehicle, you must also consider Transit coverage. Transit coverage will take care of business property off your premises while in a vehicle. Your auto policy will not cover personal or business property that is damaged due to an auto accident.
Business Of The Month: Quentin Haus Restaurant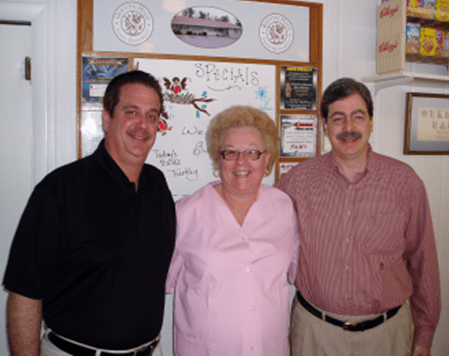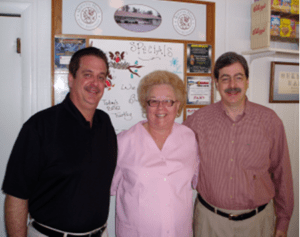 "Enjoy the heritage of the Pennsylvania Dutch" dining at the Quentin Haus restaurant every day. That is the motto that John Horstick and Bill Werner live by as owners of the Quentin Haus restaurant and have done so since they purchased the restaurant back in April 1981. Each day the doors open at 5:30 for those hearty souls who are looking forward to their daily oatmeal, cream dried beef or Belgian waffles. Five hundred pounds of potatoes are used each week to create the special tasty home fries. Those patrons who have been going to the Quentin Haus for years know they will be served good tasty home-style cooking. You will find golden fried chicken by the platter, or by the bucket for take-out. Other favorites include potpie, stuffed cabbage rolls, stuffed peppers, roast pork with sauerkraut, and baked shepherd's pie. Once a month, John's wife, Jeanne, will make a pig stomach. You have to try the pig stomach at least once. The signature dish has been the turkey dinner. Each night, large whole turkeys are slow-roasted to give it that special Quentin Haus flavor that people have raved about for years. Every day you are able to have that delicious turkey meal and not wait for Thanksgiving.
Brother-in-laws, John and Bill, have created a family-style atmosphere in the restaurant and have stayed true to their roots, yet they are not afraid to shake up the menu of with things like wraps, fajitas, Greek salads and items for the diet conscience consumers. The daily specials prove that point. There is a banquet room that can hold up to 50 people and they have catered to larger outside parties and groups.
Not only do you know that the food is of high quality, but you will also be greeted by two of the best waitress in Lebanon County. Margaret Reese and Helen Tiffany have been there since John and Bill first open the doors. The entire Quentin Haus family will welcome your family and hope that you stop in and visit them soon.
Meet Your Agents
Get to know the Strickler Insurance Team.
Trish Rhine: Accounting Manager
Trish has been employed by Strickler Insurance for 19 years! Trish is our honorary office baker supplying all of our birthday/special occasion treats. Nobody can bake like Trish. Trish is a member of the Myerstown Women's Club. She resides in Myerstown with her husband Ernie. She has 2 children and 3 grandchildren. If you are up early, you might see her out doing her morning walk. Don't hit her!
Pat Freer Sr: Agency Principle
Pat has been with the Agency for almost 34 years. In addition to the many activities at the office, Pat & his wife Debbie keep busy with their many community projects. During 2007 he served as president of the LCCM, the food & clothing bank. He has been a long time member of Sertoma and helps with many community funding raising activities. All 3 of their children are married. More and more time is being spent with their 3 grandchildren.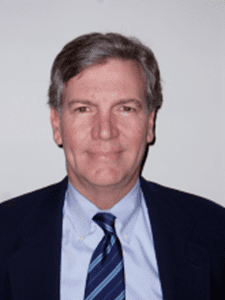 Trivia Question:
This month Strickler Insurance is sponsoring a Trivia Contest and offering you a chance to win a $5 A&M Gift Certificate! Test your knowledge! Just one correct (or nearly correct) answer and you could be this month's winner. The entry that comes closest to the correct answer to the following question will be the winner. If more than one person has the exact answer, the winner will be the person whose entry reached our office first. Write down your name and answer, and then fax –717-273-6665 — or email becky@stricklerinsurance.com this page. Good luck!
Which "king" in a deck of playing cards does not have a mustache?
Last Month's Winner:
Congratulations to Cyndy Folk from Apple Leaf Abstracting & Settlement Co for correctly answering last month's Trivia Question! For the correct answer, Cyndy has won a $5 Gas Gift Card!
Last month's question was:
What 2 fruits have the same 5 letters?
Answer: Melon and Lemon