Business Of The Month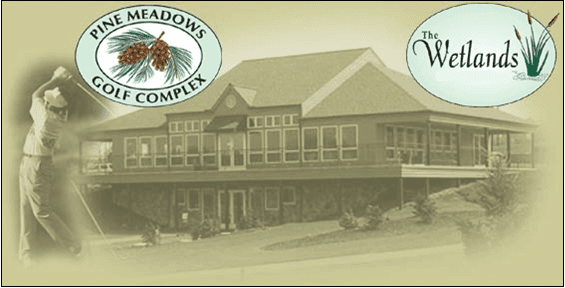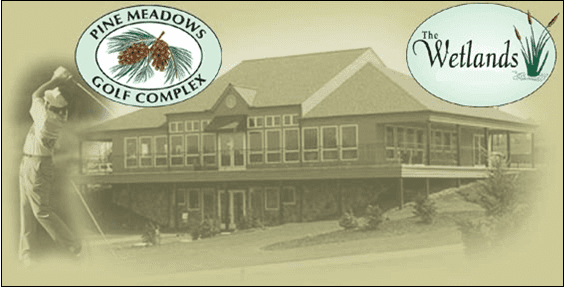 Pine Meadows Golf  Complex is located in the beautiful Lebanon Valley of Central PA and just north of the city of Lebanon.  The course features a beautiful natural setting among wetlands, bent grass fairways, Kentucky blue grass roughs and challenging contours.  This par 72 layout has four sets of tees with the yardage ranging from 4,580 to 6,463 which will challenge any golfer.  Pine Meadows also has a huge lighted driving range with grass and mats for teeing off and a miniature golf course.  It's a place to fine tune your game while your kids have fun playing mini golf.
The Clubhouse, featuring a fully stocked Pro Shop, PGA professional on hand, the "Wetlands" restaurant and lounge plus deck with Cabana Bar is open to the public and ready to serve you.  The "Wetlands" has a vast variety of food along with daily lunch, dinner and drink specials.  For you breakfast lovers, the "Wetlands" is open Sunday mornings and has a great and inexpensive breakfast menu.  The "Wetlands" is open Tuesday through Saturday 11:00am to 8:00pm and on Sundays from 8:00am to 5:00pm.  They have the ability to host league play, golf outings and special events that will make your time at Pine Meadows a memorable one.
Weekly specials for the 2012 golf season include:  Monday; Ladies Day, Tuesday; Military Day, Thursday; Senior Day and Friday; Couples day – "9 and Dine" special.  They also offer an assortment of memberships that may fit your needs.  Do you need to fine tune your game?  Call their PGA Professional and schedule a lesson.  Please visit our website at www.pinemeadowsgolf.com to see if they can be of assistance to you.
Keep it in the "short grass."
Protect Your Loved Ones, Low-Cost Coverage For All Your Life Insurance Needs!
Term life insurance is an inexpensive way to protect your family's future. The rates are very affordable and will remain the same during the initial term period. Check out these great sample, preferred/non-smoker, monthly rates from one of our life insurance companies, based on a 20 year plan:
$100,000:  
Male, Age 30 –   $11.59
Female, Age 30 – $10.75
$250,000:  
Male, Age 30  – $19.74
Female, Age 30 –  $17.64
Keeping Your Garage Safe And Secure
We don't give much thought to the safety and security aspects of our garages and doors, but they are absolutely critical to our home security and well being. Because most garage doors are solid, meaning you can't see in from the outside, no one can see what's going on behind closed doors. Someone could be breaking in to your car, or even breaking into your home through a connecting door. This is a favorite spot for burglars.
To make your home less vulnerable to thefts, lock your garage door whether you're at home or away. The same goes for any secondary entrance and connecting doors into your house. If you are going away for any length of time, unplug the garage door motor. Don't hide keys in the garage; leave a spare with your neighbor instead. Lock your car when it's parked in the garage, removing the remote garage door opener.
Garage safety is an equally important consideration. Here are the three key rules:
Keep the garage door properly maintained, and the remote control switch out of children's reach.
Use proper storage to keep sharp items and chemicals safely out of reach of children or animals.
Mop up any oil stains, spills, or other slippery hazards.
 There is no question that the ownership and use of our autos present us with the greatest personal liability exposure. But our normal daily activities can expose us to the potential of a large liability claim that could threaten our personal assets. One of the best ways to understand the need for a personal umbrella policy (PUP) is to review actual claim examples. Listed below are actual personal liability claims that illustrate the need for higher personal liability limits.
1) The insured's 18-year-old son was driving his parents' car to the store with his 19-year-old girlfriend. He left the roadway and hit a tree. The son told the police that another car cut him off, but there were no witnesses, and the girlfriend had no recollection of the accident. She was hospitalized for over a month with multiple fractures and internal injuries and received extensive physical therapy. The personal umbrella insurer settled with the girlfriend for the policy limit.
2) An 18-year-old college student was struck by a fraternity paddle during initiation. He sustained facial fractures and blindness in his left eye. The fellow fraternity members and their families were sued. The court awarded $1,300,000.
3) A 28-year-old engineer dove into a friend's above-ground swimming pool, struck his head on the bottom and, as a result, became a quadriplegic. He sued both the homeowner and the pool manufacturer. The court found the homeowner to be 60 percent responsible and the pool manufacturer to be 40 percent responsible, and awarded $10,000,000.
4) A babysitter left a 5-month-old infant unattended in a walker. The infant toppled the walker, struck her head on the floor and suffered brain damage. The parents of the infant sued the teenage babysitter and her parents. The court awarded the parents $11,000,000.
5) A couple hosted a pool party for their teenage children. They did not provide any alcohol, but it was brought by some of the guests and was available. After leaving the party, one of the guests was severely injured in an auto accident, and the injury was attributed to the consumption of alcohol. The opinion of the court was that the homeowners should have prevented the consumption of alcohol by minors on their premises. Both the homeowners' and personal umbrella policies responded to this claim.
The above losses show the consequences of situations that can quickly exhaust the liability limits of the underlying policies. For less than the cost of a cup of coffee a day, most folks can purchase a personal umbrella policy with a limit of $1,000,000, possibly $2,000,000 or even $5,000,000. Call 844-655-7480 today, for a quote to add an umbrella policy to your account.
West Chester Window
Teaching Your Employees Safe Driving Habits
Recently, the PA State Assembly enacted the state's first anti-texting law, which "forbids operators of moving automobiles from using Interactive Wireless Communication Devices (IWCDs) to send, read or write a text-based communication."  Penalties can include a $50 fine.  Penalties, contrary to local belief, do not include seizure of your cell phone.
In a business, employees that drive are some of the largest risks that commercial clients face.  They aren't being directly managed (because they're on the road and their manager is in the office), there is downtime between deliveries or meetings, and with that downtime employees are going to use their cell phones to catch up with their spouse/significant other via text, check facebook, maybe even get in a game of Angry Birds. Of course, when they're doing that, they're not paying attention to the road, which can lead to accidents, which increases your claim frequency, driving up your cost of auto insurance.
While we can't stop accidents from happening, we can help prevent claims by implementing fleet safety policies that outline what are and are not appropriate behaviors for drivers of the business vehicles.  This policy can include penalties for use of a cell phone while the vehicle is on, not wearing a seat belt, or driving intoxicated (even when they're not on your time). The policy can also encourage your employees to follow traffic safety laws such as speed or parking guidelines.
The fleet safety policy is one of the easiest and least expensive but most overlooked ways to implement safety without transferring risk to an insurance company.  Your insurance carrier may even help you create a safety program that best suits your business. Consider implementing one for your business and sleep better knowing that your employees' safety is better than it was before.
February Client Of The Month
For outstanding work telling others about our agency, this month we honored Candy Wentzel as our
Referral Client of the Month! Candy received a
$50 Visa Gift Card!