Business Of The Month: Tom Craun Plumbing Heating And Air Conditioning
L. Craun Plumbing Heating and Air Conditioning was established in 1991 by owner Thomas L. Craun. Since then they have grown into one of the most respected plumbing and HVAC contractors in the area.
They service both commercial and residential customers in Pennsylvania's Lebanon County and surrounding area. TLC can handle any job large or small. Customer satisfaction is their ultimate goal and their team of dedicated professionals promise to provide quality, friendly, dependable service in a timely manner and at a competitive cost. TLC's technicians are NATE certified and bring a high level of expertise to every job.
Whether your need is an installation in new construction, replacement of old equipment or repairs to damaged property, Thomas L. Craun Plumbing Heating and Air Conditioning can make it happen. Give them a call for your free estimate!
September Client Of The Month
Our agency is nothing without your loyalty and faith in us. Even if your name doesn't appear below this month, please accept my heartfelt "thanks" for your support.  I truly appreciate it. For outstanding work telling others about our agency, this month we honor Maxine Brandt as our Referral Client of the Month! Maxine received a $50 Dinner Gift Certificate. Thanks for your continued business! (Who's next?  Hint… it could be you!)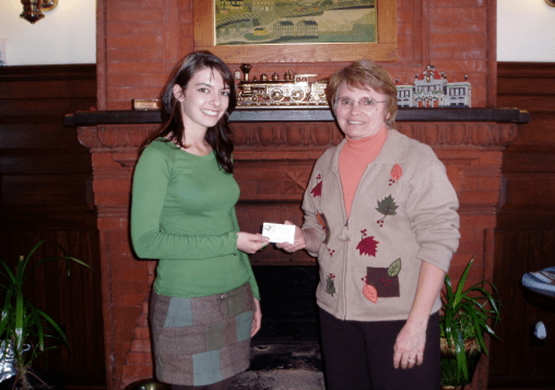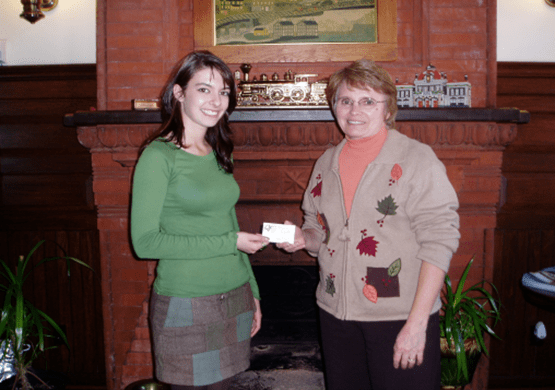 Brenna Elliott, Underwriting, awarding Maxine her $50 Gift Certificate.
Be Aware Of Animals On The Road
Each year, about 1.5 million animal-vehicle collisions cause about $1 billion in damage, according to the Insurance Information Institute for Highway Safety (IIHS). About 150 people die and another 10,000 are injured annually in such crashes.
When a deer or, in some northern states and Canada, a moose or elk meets up with a moving vehicle, there's on average about $2,500 worth of property damage, though it can exceed $10,000.
While animal-vehicle collisions can happen any time of year, fall is the peak season for deer-car accidents. That's mainly because autumn is both mating season and hunting season, so deer are more active and more likely to roam beyond their normal territory.
No foolproof way has been found to keep deer, moose and elk off highways and away from vehicles. Some motorists insist deer whistles have helped them avoid collisions. But the IIHS says there's no scientific evidence to support claims they prevent deer from approaching cars or reduce crash risk.
Perhaps a more promising approach is roadside reflectors, designed to reflect light from vehicle headlamps and cause deer to "freeze" rather than cross the road. Studies and field tests suggest they do reduce crash frequency to some extent.
You can prevent a collision with a deer, moose or elk. Here's how:
Be aware of your surroundings. Pay attention to "deer crossing" signs. Scan down the road and far off to each side. At night, use your high-beam lights if possible to illuminate the road's edges. Be especially watchful in areas near woods and water. If you see one deer, there may be several others nearby.
Be particularly alert at dusk and dawn when these animals venture out to feed.
If you see a deer, moose or elk on or near the roadway and think you have time to avoid hitting it, reduce your speed, tap your brakes to warn other drivers and sound your horn. Deer tend to fixate on headlights, so flashing them may cause the animal to move. If there's no vehicle close behind you, brake hard.
If a collision seems inevitable, don't swerve to avoid the animal; your risk of injury may be greater if you do. Maintain control of the vehicle. Report the accident to the police and your insurance company.
Always obey the speed limit and wear safety belts.
How Much Liability Insurance Is Enough For My Business?
There aren't many activities in life riskier than starting your own business. Two of the biggest risks any business faces are the loss of essential property and personal injury claims. In minor cases, these risks can cause loss of income, but in the worst-case scenario, they can bring your business operations to a screeching halt and force you to close the doors.
Obviously, your success is dependent upon keeping risks and losses to a minimum. Liability insurance helps you lower vulnerability to risk by transferring some or all of the risk responsibility to your insurance carrier. The more risk you can transfer, the less vulnerable you become. That's why it is so important to evaluate your operation frequently to determine where there is potential risk. Through a risk analysis, you consider all possible risks and determine which are the most significant for your particular business.
There are many types of third-party liabilities that businesses should be covered against. In addition to property loss and personal injury, businesses should be protected against claims such as damage to the property of others, allegations of false advertising, and legal liability stemming from employment practices. In the event that a claim is filed against you, business liability insurance will provide you with a legal defense. Should the judgment go against you, your liability insurance will pick up the tab for covered damages up to the policy's limits. Keep in mind that liability insurance can also serve as the collateral needed to post an appeal bond. A large award can be potentially reduced or reversed on appeal. Without the ability to post a bond, however, your company will not be able to start the appeal process.
Evaluating your level of risk is a complex issue. Although young companies generally have a low level of liability risk, you should buy coverage with an eye toward the future. This is especially important if you are developing products with the potential to impact a large number of people. The greater the potential impact, the greater the possibility your company will find itself as the defendant in a class-action lawsuit. Other factors you need to consider include the size of your company's operations, geographic locations, industry trends, organizational structure, amount of capital at stake, you and your staff's degree of experience and expertise in the field, and any general industry hazards.
Determining the amount of liability coverage you need should be considered a work in progress. As you expand, you will encounter situations that necessitate increasing your coverage. A review of your risk analysis should be done periodically, perhaps at each renewal. You should also review your insurance needs whenever you business changes in size, diversifies into new markets, or relocates.
Strickler Recipe Corner
Pumpkin Nut Bread
2 cups all-purpose flour or 1 cup whole
2 teaspoons baking powder
wheat flour and 1 cup all-purpose flour
1 teaspoon ground cinnamon
1/2 teaspoon baking soda
1/2 teaspoon each: salt & nutmeg
1 cup fresh pumpkin puree or 1 cup solid
1 cup sugar
pack canned pumpkin
1/2 cup skim milk
2 eggs, slightly beaten
1/4 cup vegetable oil
1/2 cup each: chopped pecans and black walnuts
Preheat oven to 350F. Sift together flour, baking powder, baking soda, ground cinnamon, salt, and ground nutmeg. In a large mixing bowl, combine pumpkin, sugar, milk, and eggs. Mix well. Add dry ingredients, oil, and nuts mixing until just moistened. The batter will be slightly lumpy. Do not over mix. Spoon batter into well-greased (use vegetable oil) 9 x 5 inch loaf pan or two 7-1/2 x 3 3/4 inch loaf pans, may use aluminum pans. Bake (in the middle of the oven) a large loaf for 65 minutes or two mini loaves for 50 minutes or until a wooden toothpick inserted in the center comes out clean. Cool 10 minutes in the pan. Use a knife to go around the edge of the pan to loosen bread from the sides of the pan, invert, cool on a cooling rack or plate. Slice and serve.