Frequently Asked Questions About Flood Insurance Questions
There are so many questions we receive concerning flood insurance because like most insurance, it varies depending on a variety of factors. The questions we receive are also from a variety of people in different stages of flood insurance. Some people who contact us are new home buyers looking to purchase a home in a flood zone, others are business owners who have a business property in a flood zone, and the worst-case scenario is people who have just experienced a flood and do not have flood insurance protecting their home.
We have compiled a large list of common questions about flood insurance. These flood insurance questions are broken down into sections to help you navigate to the area of your specific flooding situation effectively. If this article was unable to answer your flood insurance questions, please call us directly, we are more than happy to help!
The Basics Of Flood Insurance
You always want to start with the basics. A majority of these Q & A style questions will help inform you of the foundations of flood insurance. Learn with us and make sure you have the best flood insurance coverage on your home.
What Is Flood Insurance?
Flood insurance is an additional insurance coverage you can add to your homeowners' insurance, renters insurance or you can purchase commercial flood insurance for your business. Flood insurance is designed to protect your dwelling from losses sustained by water damage that is related to flooding or caused by rain, snow, or other water-related events. Flood insurance is considered a type of property insurance that is directly connected to water damage.

Why Is Flood Insurance Not Covered By My Regular Home Insurance?
Flood insurance is not automatically covered by your normal homeowners' insurance for two reasons.  First, not every homeowner needs flood insurance. If a home is located well outside of a floodplain there's less of a need for flood insurance. That is why it's not automatically covered in your homeowners' insurance.  The second reason is that floods tend to cause millions (sometimes billions) of dollars in damage and insurance companies cannot pay those losses without charging extra for them.  Flood insurance exists on its own to provide specific coverage for your home and any water damage it may succumb to due to a flood.
How Much Does Flood Insurance Cost?
On average flood insurance is about $1000 a year, but there are a wide variety of factors that controls how much your flood insurance costs. Factors that can affect your flood insurance costs are your location, the state you reside in, what type of flood zone you reside in, the amount of coverage you want for your home, and the cost of your home.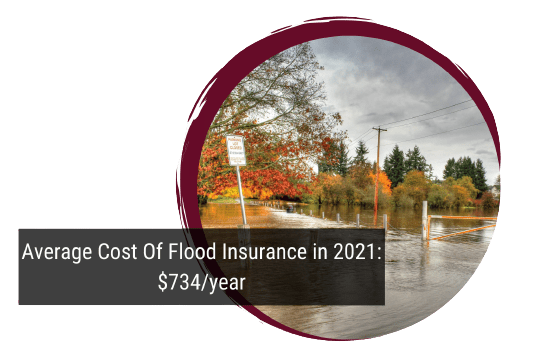 For instance, the average cost of flood insurance in 2021 was $734 a year. In Pennsylvania, the average cost of flood insurance is $1305. This means a few things. People in Pennsylvania probably purchase more protection for their homes in comparison to the other states. We are located in Lebanon Pennsylvania and we see a wide variety of coverages needed due to the variety of mountains, fields, rivers, and lakes in Pennsylvania.  Where your home or business lies on a flood map is the biggest determining factor in your flood insurance premium.  Call or email us if you want to know where your property lies on the Pennsylvania flood map.
How Does Flood Insurance Vary State To State?
Flood insurance has a wide range of costs from state to state. The highest average cost of flood insurance according to value penguins data is Vermont at $1512 a year. The cheapest state for flood insurance in Florida for $592 a year. It may seem surprising that Florida, a place that is known for flooding and flood damage, has lower flood insurance costs. The average cost of flood insurance per state is not a direct reflection of the actual costs. What it reflects is the average flood insurance coverage purchased. There's a likelihood that The average flood insurance is lower in Florida because more people purchase basic or cheaper flood insurance. In Vermont, it is likely that fewer people are purchasing flood insurance and the ones that are purchasing flood insurance are getting the maximum amount of coverage available.
What Is The Maximum Amount Of Flood Insurance Coverage I Can Have?
The National Flood Insurance Program (NFIP) allows a maximum flood insurance policy of $250,000. The internal contents coverage is optional but can go up to a maximum of $100,000 in coverage. So in total, the maximum amount of coverage you can have on a NFIP flood insurance policy for both The structure and the contents is $350,000.
How Can I Get More Flood Insurance Coverage?
If you want flood insurance coverage that exceeds the federal limit for flood insurance coverage you can get flood insurance from an independent flood insurance provider. While there may be more coverage, there is a large difference between private flood insurance and federal flood insurance. Learn how you can get higher flood insurance coverage in the private flood insurance section.
How Can I Reduce The Cost Of Flood Insurance?
You can reduce the cost of flood insurance by lowering the different risk factors that contribute to your flood insurance premium cost. As mentioned before, there are multiple factors that affect flood insurance costs. If you break down these factors and minimize the level of flood risk in each of these factors you can lower the cost of flood insurance. Some flood mitigation efforts are listed below:
Purchase An Elevation Certificate: an elevation certificate is a great way to lower the cost of your flood insurance. An elevation certificate documents the elevation of your home in comparison to the floodplain. Knowing this information your flood insurance could be lower.
Physically Elevate Your Home: if you get an elevation certificate for your home and your house is well within the floodplain, elevating your home can lower the cost of flood insurance. Depending on the home this can be a large investment up front, but over time it will pay itself off by lowering the cost of your flood insurance.
Elevate Utilities: elevating your HVAC and other utilities to avoid them being damaged if a flood takes place can help you save money on your flood insurance. Any utilities that are located below the flood elevation level can add extra cost to your flood insurance.
Add Flood Opening To Your Home: Floor openings allow for floodwaters to recede from your home efficiently. Lowering the amount of time that floodwaters remain in your home allows for less damage to occur. Add flood openings to your home to lower your flood insurance cost.
Fill In Your Basement Or Crawlspace: by filling in your basement or crawl space you will raise your home's main elevation level. This can save you money on your flood insurance.
Move Your Home: if you have a larger property and a section of it is outside of the flood zone you can actually move your home to that area to lower the cost of your flood insurance. if your entire property is within a flood zone, look at your property's flood zones and see if you can get to the lowest risk flood zone.
Learn more about saving money on your flood insurance.
Flood Insurance Coverage
Understanding flood insurance coverage is important to understand when purchasing flood insurance. Know what you are buying and why you are buying it. Understand the difference between flood damage and water damage as well as what is covered by home insurance here.
What Does Flood Insurance Cover?
Not all water damage is covered by flood insurance. What is covered by flood insurance are damages that were caused directly by a flood. Although, this depends on your flood insurance coverage policy. Certain things are considered flood damage and certain things are not.

Before getting into what is considered flood damage and what isn't covered by flood insurance let's look at two flood insurance policy types:
Building Property Flood Insurance: A NFIP building property flood insurance  policy covers up to $250,000 for your home itself or dwelling as it is commonly referred to.
Personal Property Flood Insurance: With an NFIP flood insurance policy, you can cover up to $100,000 worth of your personal possessions (the items or contents in your home).
What Is Considered Flood Damage?
Flood damage must be the direct result of a flood. Rising water from rain, snow, and other natural disasters can lead to water rising above your home's ground level. The water that comes rushing in your front door, windows, or from the outside in is considered flood damage.
What Is Considered Water Damage And What Is Considered Flood Damage?
Within a home insurance policy you typically have water damage coverage so why would you need flood insurance? Water damage and flood damage are considered two different coverages. For instance, your toilet clogs and overflows "flooding" your bathroom floor. This is not flood damage, it is water damage. If moisture builds up on the walls over time that results in mold growth, this is technically mold damage as a result of neglected water damage.  One simple way to think about it–ground or surface water coming from the outside of your home is usually considered flood damage.  Water coming from the inside of your home, such as a broken pipe or faulty hose, is usually considered property damage.
What Is Not Covered By My Flood Insurance Policy?
Flood insurance obviously only covers flood damage and things that are not the direct result of a flood aren't covered. There are certain things that flood insurance does not cover that could be caused by a flood. For instance, landslides can be the direct result of a flood. If your home is damaged by a landslide that occurs during a flood, you are not protected. Although, you are protected from mudflow damage that is caused by a flood.
What Is The Difference Between Mudflow And Landslide Damage?
The difference between mudflow and landslide damage in regards to insurance is simply the consistency of the dirt that caused the damage to your home. Mudflow is mud that primarily consists of water while a landslide is primarily dirt.
Does My Auto Insurance Protect My Vehicle From Flood Damage?

Yes! Your vehicle is protected from flood damage as long as you have comprehensive coverage on you car insurance policy for your vehicle. This means you should file a flood insurance claim for your home, and an auto insurance claim for your car if it was damaged during a flood that hit your home. No need to purchase flood insurance for your vehicle since it is covered by comprehensive coverage.
Learning About Flood Zones
Knowing basic information about flood zones will help you determine if your home or future home are located in a flood zone and what type of flood zone.
If I Am In A Flood Zone Do I Need Flood Insurance?
No, and yes. If you fully own your home, you are not required to buy flood insurance (but that is not advised). If you have a mortgage you will legally need flood insurance. It depends on who your mortgage provider is. Since they technically own a portion of your home, they require you to get flood insurance to protect their investment.
What Are The Different Types Of Flood Zones?
There are a wide variety of flood zones. Flood zones are considered areas of land that could potentially be covered by floodwaters. The federal emergency management agency is in charge of managing and categorizing flood zones throughout the United States. Flood zones fall into 3 basic groupings. And within those three groupings are multiple sub-groupings of flood zones.
High-Risk Flood Zones: A high-risk flood zone has a 25% chance of flooding over 30 years. The 30 years are established based around a mortgage. If your mortgage is federally managed or insured lenders you're required to buy flood insurance. On a map, high-risk flood zones are labeled with the letters A or V.
Moderate/Low-Risk Flood Zones: moderate or low-risk areas are just as they described. Here you have a low risk of flooding. Within low-risk flood zones, you're not required to have flood insurance. We do recommend flood insurance for certain areas to protect your investment. On a flood zone map, low-risk flood zone areas are labeled by the letters B, C, or X.
Undetermined Flood Zone: Within this flood zone area no one analysis has been made or assessed. Essentially these are areas that I have a likelihood of flood risk but no analysis has been made. These flood zones have a D labeling them on maps.
How Long Does It Take For Flood Insurance To Start?
There is a 30 day waiting period for flood insurance through the NFIP. So if you are planning on purchasing flood insurance before a hurricane, you need to make that purchase 30 days beforehand. If you purchase flood insurance a day before the storm hits, your home will not be protected by the flood insurance.  However, if you are buying a new home or dwelling, coverage for flood insurance will start immediately upon settlement and NFIP waives the 30 day waiting period.
How Do I Find Out What Type Of Flood Zone I'm In?
Luckily, since the flood zones are determined by the government the information regarding your property and flood zones is open to the public. You can find out if you're home or a home you are looking at buying is in a flood zone by looking at a flood zone map.
If you live in Pennsylvania you can locate your home on this map and see what type of flood zone it falls into. Additional flood zone maps are provided for each state and for the entirety of the United States. If you have any questions contact us directly and we can help you navigate what type of flood insurance you need for your home.
Federal Insurance or Private Flood Insurance
What Is The Federal Emergency Management Agency (FEMA)?
FEMA stands for Federal Emergency Management Agency. FEMA is the federal government agency that is in charge of all aspects of flooding in the United States. They also manage the national flood insurance program (NFIP).
What Is The National Flood Insurance Program (NFIP)?
NFIP is what most flood insurance policies (all federal flood insurance policies) go through. The national flood insurance program not only provides flood insurance but it takes steps in initiatives in local communities to improve floodplains and lower flooding damages and costs.
What Is Private Flood Insurance?
Private flood insurance is similar to flood insurance provided by FEMA. They protect your home and belongings from water damage caused by a flood. The private flood insurance funding is provided by a for profit company like most standard insurance.
What Is The Difference Between Federal Flood Insurance And Private Flood Insurance?
The primary difference between private and federal flood insurance is that private flood insurance is not backed by the federal government and the provider is a private insurance company. Approval of private flood insurance may be required by your mortgage company.
Another difference is private insurance can offer higher claim limits or specific benefits. Some benefits can include additional living expenses while your home is being repaired. Private flood insurance can also be canceled for any reason.
Why Would I Want To Buy Private Flood Insurance?
Some people get private flood insurance because of the more affordable costs. While this isn't always the case, typically with insurance you get the coverage that you pay for.
The reason a lot of people purchase private flood insurance is because of the specific benefits the private flood insurance provides. From being able to cancel the insurance policy for any reason to having a higher claim limit. The risk involved is how their policy works, what is covered and any differences they might have from standard flood insurance.
Filing A Flood Insurance Claim
While filing a flood insurance claim seems like it would be as straightforward as filing a car insurance claim, it does have some time restraints and important documentation that is needed. Be sure to file your claim as soon as possible.
How Do I File A Flood Insurance Claim?
When you experience a flood you can file your claim directly to your insurance agents or insurance provider. This is even if your flood insurance is provided through the national flood insurance program and NFIP.
When filing a flood insurance claim it is important to remember that time is of the essence. Flood insurance can be very involved and a lot of information is needed quickly and in a timely manner. Having a good insurance agent who works with you to make sure all of your flood information is documented is vital to your claim.
How Long Do I Have To Provide Proof of Loss In A Flood Insurance Claim


After you file a flood insurance claim you have 60 days to provide proof of loss. Proof of loss is a written statement that establishes what damages occurred and what loss you were claiming. If you are nearing the 60 days to provide the proof of loss, send your statement over the mail so you have a postage stamp date.
What Should I Do After Filing My Flood Insurance Claim?
After you file your flood insurance claim be sure to document everything. From receipts used to pay for certain repairs that are needed immediately to the dates you contacted it and were contacted by her flight insurance provider. You should avoid doing too much work on the home immediately because it will make it more difficult to document. Unless you have a private flood insurance plan you will need to figure out where you will be living in the coming months.
Looking To Purchase A Home In A Flood Zone
If you are looking at purchasing a house or property located in a flood zone there is a lot you should know. As you can tell by the size of this FAQ article on Flood Insurance there is a lot of information revolving around
What Should I Know About Purchasing A Home In A Flood Zone?
If you were thinking about purchasing a home in a flood zone you should read this entire article. There are many factors that go into owning a home that requires flood insurance and not all of them can be covered here.
One of the first things you can do is check what type of flood zone the home is located in. Find out the last time it was flooded, and also find out if there's any existing flood damage. The previous homeowner does not legally have to tell you if or when the home was previously flooded. Speaking with neighbors and talking to the local fire department or police station can provide information on whether the home was flooded before. The present homeowner doesn't have to disclose past flood history.
If I Don't Put A Down Payment On My Home Do I Have To Pay For Flood Insurance?
Yes. If you don't put a down payment on your home you will need to pay for flood insurance as well as additional insurance for your mortgage provider. Technically you will need to continue to have flood insurance as long as you have a mortgage. Once the mortgage is paid off, then you can request a cancellation of your flood insurance. That request can be denied depending on the situation.
Why Can A Mortgage Company Force You To Buy Flood Insurance?
A mortgage company can force you to buy flood insurance because you technically do not fully own your home until your mortgage is paid off. Because your home is also an investment for your mortgage company you are legally obligated to provide insurance coverage for their investment. Once you fully own your home you do not legally have to have flood insurance while living in a floodplain.
Can A Mortgage Company Force Me To Buy Flood Insurance Even If I Am Not In A Flood Zone?
Technically they can. Even if you aren't in a flood zone, a mortgage company can have it in their requirements that you purchase flood insurance to protect their investment.
My Home Was Added To A Flood Zone
While this is not extremely common, it can happen. Typically a location is added to a flood zone after sustaining repeat floodwaters and flood damage, but occasionally areas can be added to a flood zone before flooding ever occurs.
Do I Have To Get Flood Insurance If My Home Was Added To A Flood Zone?
Remember, if you fully own your home you are not legally required to purchase flood insurance. If you have a mortgage you are legally required to purchase flood insurance.
You Can Request A Change In Your Flood Zone Designation
When you are first added to a flood zone it will typically be an undetermined flood zone. This essentially means that the federal government has not determined a flood analysis but have listed it as a potential flood zone. By requesting a change in your flood zone designation they will have to assess your property. The one risk in doing this is their analysis could result in your home is added to a high-risk flood zone. This will increase the cost of flood insurance.
How Long Do I Have To Get Flood Insurance After My Home Is Added To A Flood Zone?
If your home is in a flood zone you are typically required to have flood insurance purchased for the first year upon purchase of the home. This is so that the mortgage and property is always protected.
Why Should I Tell My Insurance That My Home Was Added To A Flood Zone?
The more your insurance company knows about your situation, the better they can provide protection. If you are added to a flood zone you should contact your insurance company and learn about the options and requirements for flood insurance.
No Flood Insurance But You've Experienced A Flood
This is the worst-case scenario. You have never experienced a flood before but all of a sudden your home is flooded and has sustained damages. What are your options? What can you do to repair your home after a flood?
What Are My Options If My House Has Been Flooded & I Don't Have Flood Insurance?
First, you should contact FEMA. Even if you do not have flood insurance you should notify the Federal Emergency Management Agency (FEMA).
I Do Not Have Flood Insurance, Can I Get Free Assistance?
If you experience flood damage but do not have flood insurance, you can apply for federal disaster relief. There are two forms of assistance you could receive.
FEMA Disaster Grant: A FEMA Disaster Grant is a sum of financial assistance that can between $5k-33k.
SBA Loan: These loans are provided to repair your home from flood damage, to refinance your mortgage, or to replace damaged belongings. They are typically low interest, and you do have to pay them back over time.
Questions About Flood Insurance?
We want our FAQ on flood insurance to ask all of your questions. If you have a question we missed please contact us. Not only will we answer all of your flood insurance questions but we can provide a free flood insurance quote.
Final Thoughts On Flood Insurance
Flood insurance is advanced, complicated, and only a small part of insurance. At Strickler Insurance we hope to provide the best flood insurance information. Contact us with all of your flood insurance questions. Stay safe and stay dry. We hope this helps you to be the best homeowner and keeps you informed on your flood insurance.